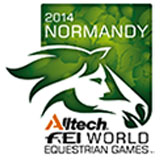 HPower Group was appointed by Alltech, the title sponsor of the World Equestrian Games, to safeguard its brand for the event. This meant ensuring that brand awareness was maximised whilst maintaining the brand identity.
Venue: Caen, Normandy
Stakeholders: Alltech, Fédération Equestre Internationale
HPower was tasked to deliver for the title sponsor at the FEI's World Equestrian Games in Caen, Normandy. This meant our team ensured that a prominent level of awareness for the brand was delivered at all venues and for all disciplines.